LLX > Neil Parker > String Figures > Elementary School
Witch's Broom (2)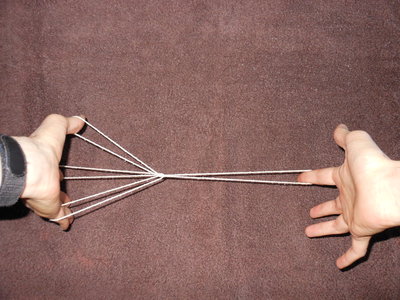 1. Position 1.
2. Pass right index under left palmar string and return.
3. Give the right index loop a full twist away from you.
4. Pass left index into right index loop from above (to the right of the twist), and under right palmar string from below. Return through the right index loop carrying the right palmar string.
5. Release right thumb and little finger.
This figure is found in many places around the world, and is often interpreted as representing some form of spear. The "spear" interpretation was unknown at my elementary school, and this shape was usually interpreted as "Witch's Broom."